''Hush, thy child, do not stray far from the path,''

''or The Faceless One shall steal you away to Fairieland.''

''He preys on sinful and defiant souls,''

''and lurks within the woods.''

''He has hands of ebony branches,''

''and a touch as soft as silk.''

- Quote from a macabre lullaby dated in 18th century. This lullaby being used by parents in the old times to scare their children with story of a creature named as
Slenderman
.
-------------------------------------------------------------------------------------------------------------------
Among the terrifying legendary creatures, Slenderman is one of them. It comes from many folklore beliefs and legends that started since hundreds years ago, and these legends and stories were about the horror that Slenderman bring upon their life.
This creature described as a very tall man figure(the legs have extraordinary length), bald head, several tentacles like arms protruding from its back, wearing a black suit but the scariest of all is, it has no face. Slenderman loves to lurks within the woods @ in any foggy/misty places, because its can disguise himself and moves easily through the trees and fog/mist.
One of the legends mentioned the origin of the Slenderman. it was a man whom had been tortured viciously as a result of a family feud involving his children. He was beaten to death with a log before get impaled with a branch or pole. his corpse left to hung from a tree in the misty woods, with both of his arms and legs amputated. later, he awakened as a sinful spirits that roams the whole world with his blank visage hiding the enduring pain of his ordeal.
Slenderman known to posses various powers/abilities. it can hypnotize the victims so they couldn't escape or for bidding. he also posses an ability to teleport itself to any desirable place he wants to go, triggering fears within a victim making them go insane with paranoia and insomnia till it reached to one point where the victims begin to commit unthinkable actions like killing people around them. other myths mentioned this creature can altered victim's brain, that lead to memory loss.
From most legends, Slenderman loves to abduct children whom being misbehaved from their family, and once he took them away, the children will never been seen again. its also believed the children would likely to be kidnapped by Slenderman if they playing in the woods where he lived, all alone by themselves.
The missing children whereabouts remained unknown. we might wondering will happens to these poor children after being snatched by Slenderman, did he killed them? or did he bring them to other dimension/place? unfortunately till today, no one knew the answers.
Others mentioned Slenderman also targetting adults, but instead of kidnapping them, he will torturing the adult victims with mentally disturbance symptoms until they going insane and thus, mysteriously disappearing without a trace after committed terrible acts (some folks believe the Slenderman claimed them and taking them away with him).
From the most stories of the kidnappings associated with Slanderman, its all started when the victims meet this creature when they are in the woods or foggy places, alone with no one else around them. the victims can sense the Slenderman presence easily but although it had been spotted, Slenderman didn't run nor disappear. Instead, he will following/stalking the prey from behind, giving no signs of footsteps @ noises while doing so. Every time the victims turn their head to look back, he will come closer and closer to them and even the victims tried to walk or run away from it as fast as possible, it didn't make any different at all. No one would ever escape once they meet Slenderman. before taking them away, the Slenderman will spend some time to bring out fears and hopelessness from the victims, enjoying the taste of these negative emotions radiating from them.
another different yet earliest folklore stated whomever meet the Slnderman will been given a riddle associated with their past sins committed but never been owned to. if the person answer it untruthfully, Slanderman will shove his tentacles arms into the throat before pulling the heart out from the person's mouth, killing them instantly but even if the people had passed the riddle, they still going to lose their arms and legs as penance.
The first sighting of Slenderman found in one of the Woodcut carved by Hans Freckenberg in 6th century, a renaissance artist whom mysteriously vanished shortly after completing his two works featuring something called as Der Grossman, meaning ''tall man''. example is in one of his picture, where there was one oddly long skeletal limb extended from the skeleton warrior, believed to be the Slanderman whom hiding/disguising himself.
Even being feared for these attributions, Slanderman had been used as a figure in past bedtimes stories and lullabies for children so they will always remember not to misbehave as well feels scare to walk in the woods alone by themselves, and will return to their home before the sunset.
Always wish that you will never seen him or it will watching you with the faceless look, haunting your dreams and make you go insane before being snatched away from the reality world, never meant to been seen again by others.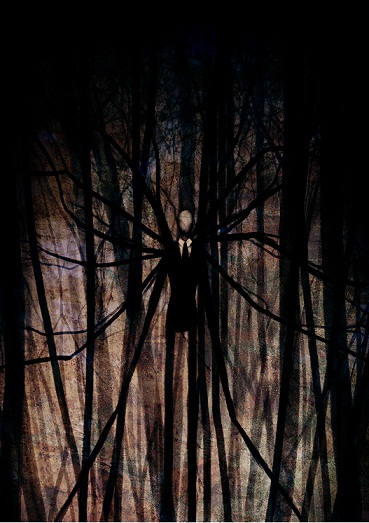 source :
http://theslenderman.wikia.com/wiki/Slender_Man_in_Mythology_and_Culture
http://www.mythicalcreaturesguide.com/page/Slender+Man
http://daliennation.wordpress.com/2012/08/31/the-evolution-of-folklore/